CTS 集团
The CTS Group is one of the most prominent companies in Israel engaged in the healthcare, agricultural and veterinary sectors. We operate an independent division in each sector with its own scope of activities.
Since opening our first pharmaceutical marketing office in Jaffa in 1921, our company has been involved with many significant developments in the country's healthcare, animal care and agricultural needs.



Healthcare- Our Insight Your Well-being



CTS is strongly involved in representing major pharmaceutical manufacturers who sell in Israel. For major players such as Astellas, UCB, Nycomed, Sanofi- Aventis, Mitsubishi Pharma, Eusa, Besines, Pari and Geistlich we undertake all activities involved with importing, registration, marketing and distribution. Concurrently we also develop, manufacture and market our own Rx and OTC products locally and internationally.
Through one of the largest logistics center in Israel, we serve these companies by marketing and supplying their products to pharmacies and medical institutions.
The Healthcare division operates two manufacturing plants:
CTS Chemical Industries – for Pharmaceuticals
In this renovated, state-of-the-art facility we specialize in producing licensed leading ethical products from international companies as well as developing our own OTC and ethical products.
CTS-Novis – for Dermo Cosmetis
This is an advanced manufacturing plant specializing in the production of cosmetic and toiletry products based on CTS's own expertise. Products are developed in cooperation with Private Label customers and manufactured under licensing agreements.



Agrica-Safe and Healthy from Seed to Fruit



For over 80 years our company has been deeply involved in stimulating the country's agricultural prosperity and helping farmers to grow safe and healthy crops. Agrica, our Agricultural Division, is involved in the import, registration, marketing and distribution of world-renowned plant protection agents, seeds and fertilizers. Our expertise and contacts in Israeli agriculture has led to our appointment as the local representatives for agricultural multinationals such as Syngenta, BASF, Valent (Sumitomo) and Nufarm.
The Agrica division also operates the Dr. Meron manufacturing plant in Haifa which is involved in the formulation and manufacturing of pest control products and other preparations for plant protection in Israel.
Animal Care- Caring for animal health and safety



Our Veterinary Division, Aimal Care, represents leading international pet food brands such as Doane Pet Care, Continental Nutrition, Versa Lega, Chenango Valley Pet Foods Inc and Dr Alders. These international companies rely on us to undertake all import, registration, marketing and distribution activities for them.We also manufacture our own Dr.Pet line of products for cats and dogs that include Pet food, health additives and supplements, preparations to treat damaged skin and painful joints and dental care products. In the wider veterinary area, our laboratories have developed effective insecticides against external parasites in pets, farm animals, cattle, sheep, poultry and fish farms.
Maintaining high quality assurance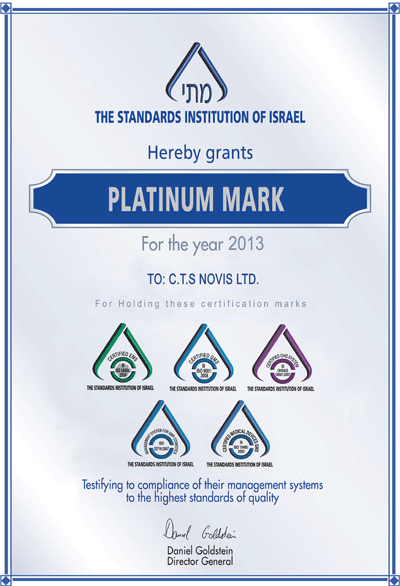 At CTS we apply the most demanding international standards and hold the following certification:
Pharmaceuticals: TGA (Australian Health Authority) Certification, Israeli GMP Certification, Romanian GMP Certification, PICs Certification (equivalent to GMP and valid in 24 countries including the UK, Germany, France, Canada and Australia), ISO 9001:2000
Cosmetics: ISO 9001:2000; ISO 13485:2003; British BRC (Global Standard for Consumer Products) and GMP Certification from the Israeli Ministry of Health.
Environmental Protection: ISO 14001, OHSAS 18000 Certification and follow a 'green office' policy of using renewable energy and recyclable materials.



Extensive community action



Alongside our commercial activities, we are also committed to broad social responsibilities towards the communities that surround CTS facilities. We care for our employees and their families and support educational and cultural institutions.